Episodes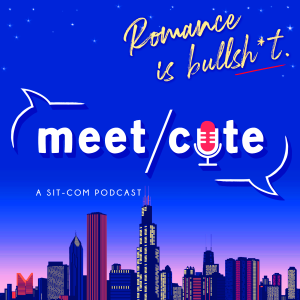 Monday Sep 02, 2019
Monday Sep 02, 2019
Time to meet Alyssa's new boyfriend, Andre. Will he be as perfect as he appears? Will Arnie expose him for the fraud he thinks he is? Why in the world is Jackie acting like she is in a Home Alone sequel?!?
Created and Directed by Joseph H White
Audio Direction and Design by LJ Luthringer
Written by Larissa Zageris 
Produced by Ellen Domonkos White
Starring
Alicia Frame as Jackie
Natalie Rae as Alyssa
Alex B Reynolds as Arnie
Christopher Waldren as Mike
Featuring
Bryan Bosque as Andre
Other performances by
Donaldson Cardenas and Meagan Picochi as the FBI Agent
Michale Achenbach as the Food Delivery Guy
Meagan Piccochi as Britney the Hair Stylist. 
The meet-cute writers room includes
Larissa Zageris, Cara Winter, Joseph White, and Alex B. Reynolds. 
If you loved the writing for this episode check out Larissa's other work with her writing partner and friend of the pod, Kitty Curran. Larissa Zageris and Kitty Curran are the creative team behind My Lady's Choosing: An Interactive Romance Novel (Quirk, 2018), the viral Kickstarter hit illustrated novel Taylor Swift: Girl Detective, and many comics and essays. Their most recent comic appeared in The Wicked + The Divine: The Funnies (Image, 2018) and their most recent screenplay was a semifinalist for the 2019 Sundance Episodic Lab. Kitty and Larissa's latest book, For Your Consideration: Keanu Reeves is out October 15 from Quirk Books. They live in Chicago.
This week's actor Michael Achenbach also has a podcast you should check out: IN THE JAR. Joseph White and Alicia Frame (Jackie) guest on Episode 24.
Meet/Cute is a co-production of MIM Creatives and Tech Magic Designs. We'll see you next time